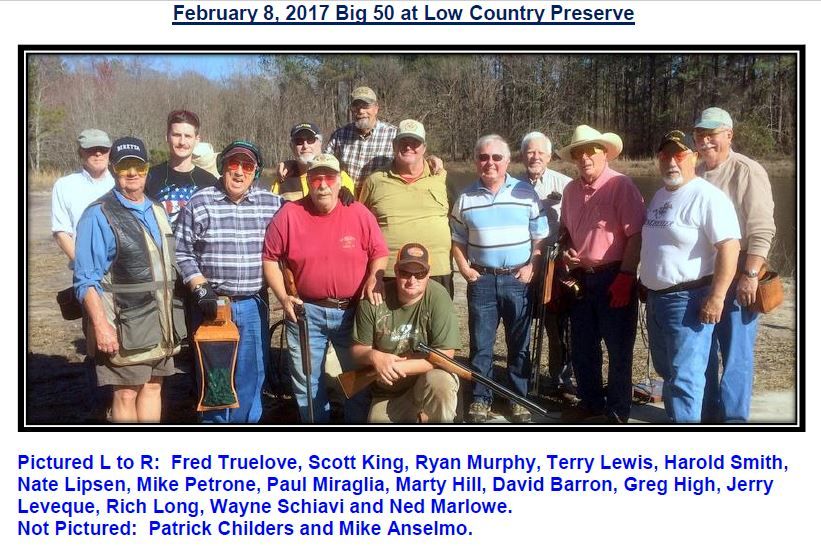 02/08/2017 Big 50 Results
Another great day to shoot at Low Country. Sunny, 70 degrees and moderate wind with a few gusts. A beautiful day to be outside. We had two unexpected guests shoot with us this week. Marty Hill, the current NC Trap Association President and Greg High, past president drove down and shot with us. 17 shooters competed this week.
15 in singles and 12 in caps. Top Gun in singles this week was a tie with Pat Childers and Harold Smith both smoking 45 targets. David Barron was second with 43 and third belongs to Rich Long breaking 41. Paul Miraglia was fourth with a 40. It was crowded after that with two 39's, two 38's, etc. Mike Anselmo, Scott King, Jerry Leveque, Terry Lewis, Nate Lipsen Ned Marlowe, Ryan Murphy, Mike Petrone, Wayne Schiavi and Fred Truelove all shot singles with us this week.
Greg High was Top Gun in caps with a 38. Scott King and Rich Long both broke 36. Mike Anselmo, David Barron and Ryan Murphy all shot 35. Pat Childers, Marty Hill, Jerry Leveque, Paul Miraglia, Mike Petrone and Harold Smith also shot caps with us this week. See the picture on page 3 of the shooters this week.
Many thanks to all who attended and helped clean up following the shoot
THE NEXT BIG 50 WILL BE SHOT ON WEDNESDAY February 15th AT 1:00 P.M.