A little warm weather and every trap shooter comes out of the woodwork. What a great weekend for practice and with three registered events this week folks are getting ready for the 2017 season. You know it is about time when Mac at the Coharie Shooting League sends out his 2017 schedule.
I published CSL's 2017 schedule in trap shoot dates and I know Mac would like to see the regulars and some first timers also. LCP hosted their BIG50 last week and they had two rather distinguished visitors. Marty Hill and Greg High road tripped to LCP and Greg wound up Hi-Gun in the caps with a 38. I have posted the BIG50 results and also a brief blurb on their monthly shoot this Saturday.
LCP BIG 50 Crew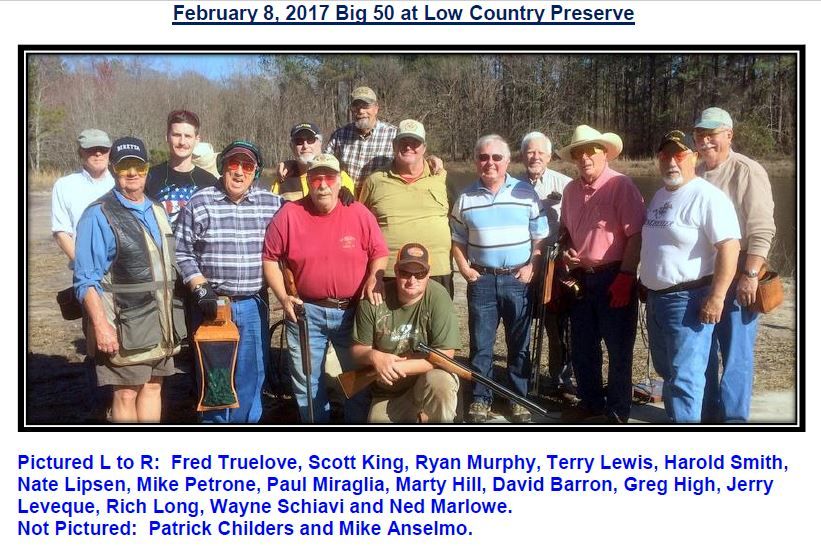 Three events this week in NC with LCP's BIG50 Wednesday the 15th and their monthly shoot Saturday the 18th. Dan Johnson posted the Buckhorn Birthday Shoot for this Sunday the nineteenth and they are celebrating 4 birthdays. Jimmy – Morris – Gail Kanas and Gail "almost over the hill" Page and the designated birthday spanker will have almost 250 licks to deliver.
Unbeknownst to me Mr. Jimmy Wilson went under the knife the 31st of January. He had his left knee replaced which will leave him with a straight left leg and a bowed right leg. If he lays on his left side his legs will look like a dog jump and laying on his right side they will look like a smiley face. I asked Dan what knee it was and he said it was his wee knee and I said I thought it was his push knee? Here is wishing Jimmy a speedy recovery and word on the street is that he will be porch sitting and will be barking out orders if the subliminal mind control goes South. I am praying that when he does get out to strolling around he gets to moving a little better than old Grandpa on the Real McCoys…… I have included a picture of Mr. Wilson at the Southern Zone in 2005 and he looks mad and I might be the reason why….Get a good look at this stance and I will try to get another to compare at the Dogwood….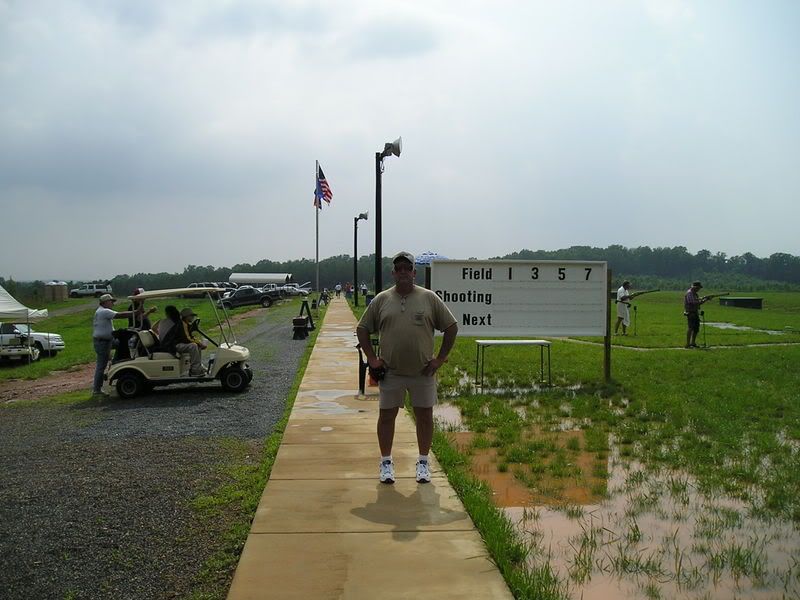 Hunter Galloway will be visiting the Spring Grand Feb. 20-26 in Tucson Arizona next week. This is the first time he has ever been to Tucson and he will be packing a shotgun to shoot a little bit. ATA business meeting during the shoot and lots of ATA business to deal with. Here is the link to the program…..
http://www.shootata.com/Portals/0/pdf/2 ... nd_WEB.pdf
Ok…….Big week ahead with babysitting little kids and big kids. I hope everyone has a great week and get out and enjoy some of this great weather! Hello to Lou, Hap, Scott and Chase and until next week……………………………Smokem