Day two of the Buckhorn Labor Day weekend shoot is now in the books. Weather was a carbon copy of yesterday with hot humid conditions for the participants to get all sweated up again.
We had a few more shooters toe the line today and great scores were shot in all three events. We had the pleasure of blowing Kai Li's hat to pieces after he hammered out his first 100 straight. Hundreds are always a thrill, especially the first one. Congratulations sir, that was fine shooting!
Tiffany left Brad at home and proceeded to kick everybody's rear end without being impeded. As she was leaving she mentioned something about his "new" role being gun bearer and shell caddy. Can't think of a better use for him........
Marty was noticeably absent today. Rumor has it that he was seeking therapy for Sam.
Entertainment of the day was watching the curmudgeon eat one of Karole's chocolate masterpieces fresh out of the oven before things got started. I don't know what she calls it but it was a cupcake with mostly chocolate in a cookie "body" for lack of a better description. Issue was that while warm, the innards hadn't firmed up and he was getting it all over himself and everything else around him. Not quite sharp enough to use a spoon. hhhhmmm........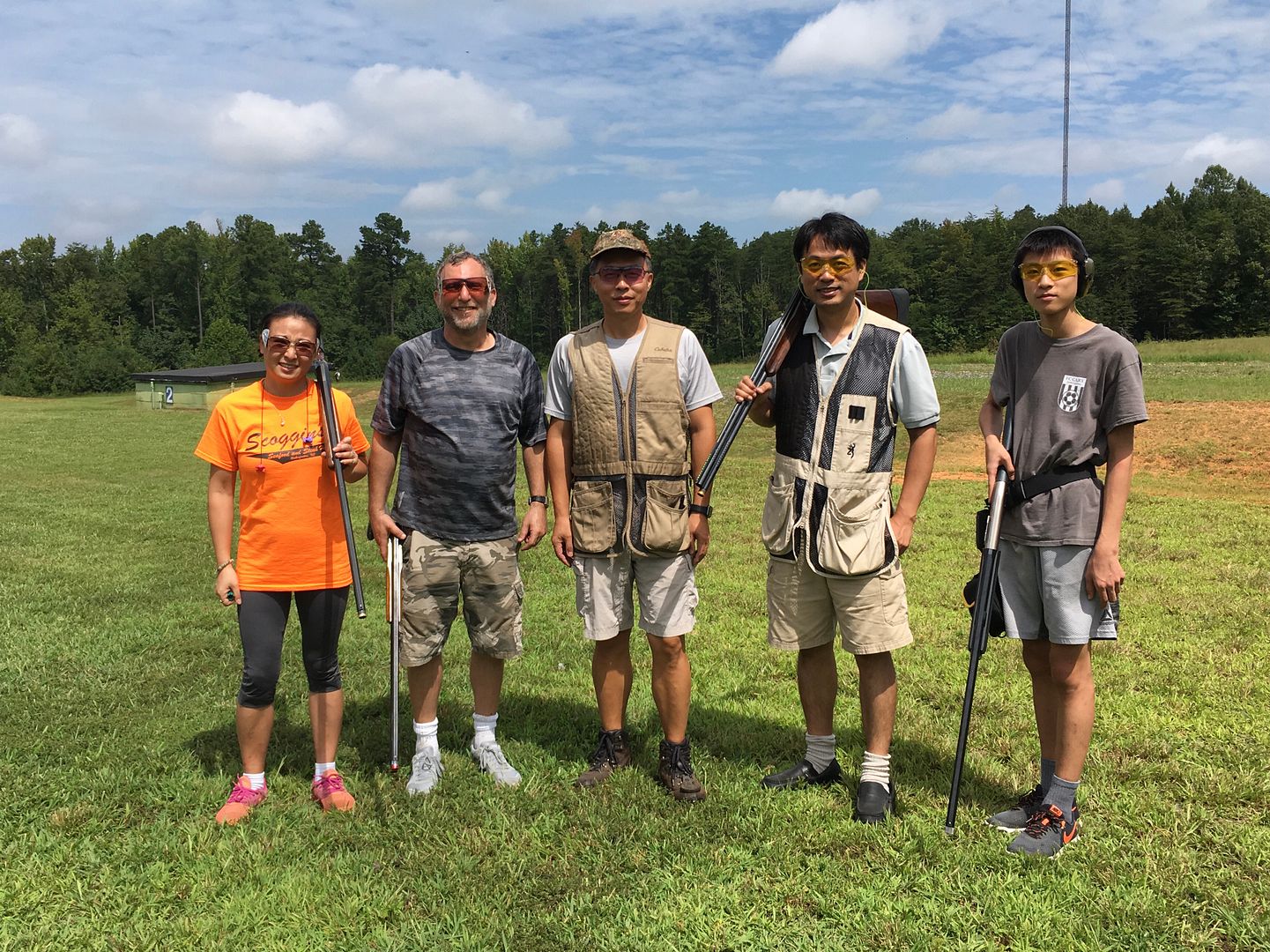 L-R - Scarlett - Jeff - Kai Li (1st 100) - Hong Zong (95) - son Alek Zong (87) - It was the 1st registered event for Hong & Alek - great shooting!
Singles (14 shooters)
Champ - Kai Li 100
A - Walter Mabe 94
B - Bill Howe 96
C - Randy Jones 97
D - Scarlett Su 79
Lady - Tiffany Decker 97
Sr Vet - Richard Drake 96
Sub Vet - Ron Costanzo 96
Jr - Ean Wagoner 98 (had a 75 straight in there)
Sub Jr - Alek Zeng 87
Caps (12 shooters)
Champ - Walter Mabe 98 (+1)
Short - Randy Jones 94
Mid - Glenn Alford 89
Inter - Brian Kellner 97 (+1)
Long - Tiffany Decker 88
Lady - Karole Miller 88
Sr Vet - Richard Drake 90
Vet - Curtis Odem 78
Sub Vet - Dan Johnson 87
Jr - Ean Wagoner 84
Doubles (10 shooters)
Champ - Tiffany Decker 190
AA - Dan Johnson 189
A - Walter Mabe 181
C - Randy Jones 178
D - Bill Howe 179
Sr Vet - George Ponton 179
Sub Vet - James Wilson 180
Jr - Ean Wagoner 179
HOA Tiffany Decker
Typical 300 target day tomorrow to wrap this thing up, 100/100/50 pair. Might as well come on out and join the faithful for a day of fun.
Hope to see you there! Travel Safe. Dan
** Thanks to Scarlett Su for sending the picture and the photographer whoever you are?